I adore DR. WHO AND THE DALEKS as well as its sequel. I used to hate both films until I put it in perspective that these films are not meant to be a continuation of the television show. Nor are they anymore an affront to the name of Doctor Who as Adam West is an affront to the name of Batman.
Rubbish!!
The two films starring Peter Cushing as Dr. Who (as opposed to the Doctor as he is known in the television series) are merely meant to be harmless fun. The characters are restructed in order not only to entertain young kids, but also entertain the entire family.
You have the plucky young child in the form of Susan (or Susie). The attractive teenage girl in the form of Barbara. And finally the inept but lovable comic relief in the form of Barbara's boyfriend Ian. Of course you have the older authority figure who still retains a child-like fascination in the form of Dr. Who.
And you have the Daleks. Really the reason the film was made at all. The Daleks were insanely popular in 1960's England. Which might have some scratching their head why. But all it comes down to is right place at the right time.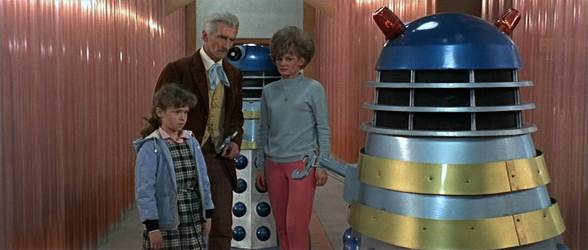 Kids were terrified of them. Much like Batman over in the United States (which kids were not terrified of, naturally), they merchandised just about anything you can possibly put a Dalek on. So it only seemed natural that the powers-that-be in the British Film Industry would contact Terry Nation, the man who wrote the first Dalek serial on television to write the two films.
If you treat the two films as their own entities and not try and make comparisons to the television program, as well as just accept them as good harmless fun. Then you can enjoy both films.
Not only that, but fans of the new series can get a chance to see Bernard Cribbins who played Donna Noble's Grandfather Wildfred Mott doing a much better job as the comic relief in the second Dalek outing.
No offense to the late great Roy Castle OBE intended.
If you have not seen either films, give them a try. In some ways it was the earliest example of a popular television series being turned into a big budget motion picture. Its also the first time a Doctor Who project of any kind was produced in color... or colour depending on which side of the pond you are on.