You've probably asked yourself from time to time why did Darrin Stephens suddenly looks so different in later seasons of Bewitched?
And if Samathan Stephens was really that brilliant why didn't she immediately notice?
Well, while I can't answer the second question, I can answer the first question. Darrin Stephens was murdered during Summer Repeats after the Fifth Season of Bewitched by a man who was the direct descendant of Witchfinder General Matthew Hopkins who had been sent to kill Samantha.
Samantha doesn't find out about this until til after the series is canceled in 1972.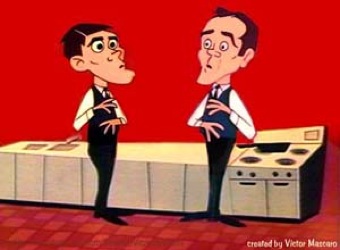 I mean what do you think happened? Dick Sargent replaced Dick York due to reoccurring health problems and the producers wanted everyone just to accept that it's just the same Darrin? That's just as silly as believing Jack Lemmon, Walter Matthau, Tony Randall and Jack Klugman were all Oscar Madison and Felix Unger.