That would be the same Hammer Films that gave us the
Frankenstein
and
Dracula
movies from the late 1950's until the 1970's which starred Peter Cushing and Christopher Lee. They're already getting mostly positive reviews about their first film
The Woman in Black
starring former Harry Potter star Daniel Radcliffe. Which makes me giggle at all the teens who are going to see this film because of Radcliffe and are probably getting scared out of their socks because Harry Potter is starring in a proper horror film.
Already there are murmers and whispers that Hammer is planning on filming a brand new version of
Dracula
. And knowing many of the past films produced by Hammer, you can rest assured that the Count will not "Sparkle".
Which begs the question, who should be Dracula. For me, anyone but Robert Pattinson... or Tom Cruise... or Jack Black.
Initially my vote would go to Sherlock actor Benedict Cumberbatch. He's tall, pale, thin and has a melancholy quality to his voice.
Here's a quick thought. Cumberbatch as Dracula with Daniel Radcliffe as Harker.
However, my thoughts then went to another classic series by Hammer:
Frankenstein
. And given the success they had on stage, perhaps Hammer should cast Benedict Cumberbatch and Johnny Lee Miller in a new version of
Frankenstein
.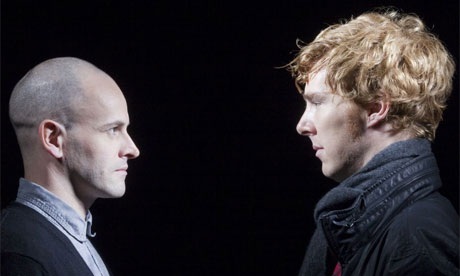 Ah!! But now comes the tricky question. Who should star as who? Given that both actors have swapped roles during different nights of the performance.
This might be interesting casting since both actors appar to be squaring off now... or at least their production companies are... over the part of Sherlock Holmes since Cumberbatch has now become a household name for playing the part on the hit series
Sherlock
and Johnny Lee Miller has been cast in the same role in an American version called... um... Elementary.
What do you think?