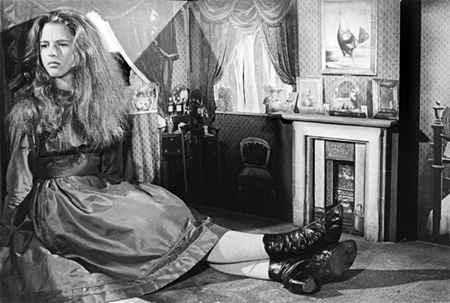 Four our last stop in Wonderland we look at possibly the most unique adaptation in our journey. Produced and directed for the BBC by former Beyond the Fringe writer and humorist Jonathan Miller. It's unique in the sense that Miller made a conscious decision NOT to have the actors dressed as animals but instead have them simply appear in Victorian dress.
Miller justified his approach as an attempt to return to what he perceived as the essence of the story: "Once you take the animal heads off, you begin to see what it's all about. A small child, surrounded by hurrying, worried people, thinking 'Is that what being grown up is like?'
Those who are too young or unfamiliar with British Satire and the counter culture movement of the 1960's might find this take on the tale confusing and boring.
Matter of fact,
Anne-Marie Mallik,
the young actress playing Alice comes off as very disinterested and bored at her whole "Wonderland" experience. Then again, Alice seemed very much that way in Sir John Tenniel's artwork, didn't she?
Apparently, Miller had envisaged an Alice "with no stage experience, not very pretty but curiously plain, sallow and a bit priggish".
Well, spot on!!
But to be fair to Ms. Mallick, this was her first and only acting job.
The movie itself is awash in the feel of the 1960's culture as far as it's off-beat and somewhat experiemental interpretation of Alice. Music is composed and performed by Ravi Shankar who was beginning to catch the public eye due to his association with George Harrison and the Beatles. Though not to detract for his own talents as a great musician.
It is almost entirely filmed at Netley Hospital, which was a 19th Century Building which incidentally got demolished shortly after this film was made.
This was also a time of the Satire Boom in the 1960's. There is quite a bit of that visually in many of the scenes of the movies. Especially in the scenes with the Queen of Hearts as well as the courtroom scenes.
Comedy in England became more cerebral and pointed. As was as socially and politically charged as the way people began to look at the world changed. Satire became a way for many writers and comedians to express themselves. Jonathan Miller, Peter Cook, Alan Bennet and Dudley Moore would influence many of these young would be satirists. Most notably, Eric Idle who would later gain fame as a cast member of Monty Python's Flying Circus.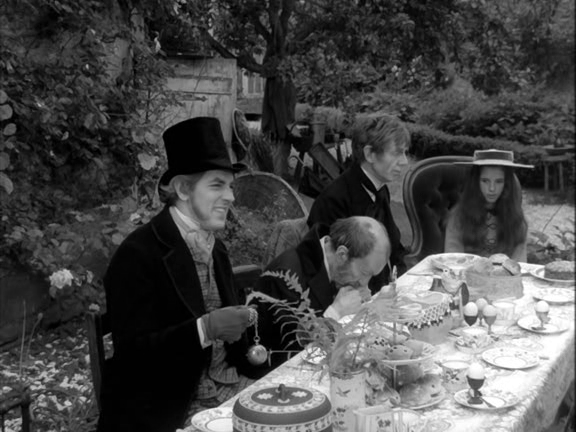 Much like the later 1972 version of Alice, this film is a veritable "who's who" of British actors with Jonathan Miller's Fringe cohorts Peter Cook and Alan Bennett as the Mad Hatter and Mouse respectively. Also featuring Wilfrid Brambell as the White Rabbit, Leo McKern as the Duchess, Michael Redgraves as the Caterpillar, Michael Gough as the White Rabbit, Sir John Gielgud as the Mock Turtle and Peter Sellers as the King of Hearts.
As mentioned in a previous blog, Sellers would later play the part of the March Hare in the 1972 version of Alice.
There is also an uncredited appearance of future Monty Python star Eric Idle in the courtroom scene. This film is actually Mr. Idle's first television appearance.
All the portrayals of the characters are different from what we have come to expect. Most notably Peter Cook's take on the Mad Hatter, Michael Gough's March Hare and Sir John Gielgud's playing the Mock Turtle like a retired thespian rather than the baleful creature we know from the story.
For me, I enjoyed the take on the story. But as I mentioned earlier. If you don't have any interest in either British satire or comedy. Or really know or have much interest in 1960's culture, you may find this version to be a tad on the tedious and boring side.
But I would give any of these films a try. Even the ones I said weren't particularly my favorites I would try them anyways. Even if I don't particularly care for them, doesn't necessarily mean you won't care for them.
Never judge anything bad just by what someone else says. Judge it for yourself and draw your own conclusions. The only way you're ever going to know if you like something or not is to actually watch, listen or read something.
You might find yourself pleasantly surprised with what you discover.