But here's how it could work.
Not unlike the one around Greg Brady's neck...
Which unleashes the spirit of an evil Kahuna spirit.
During dinner (because that's when all these conversations are brought up) Lydia's daughter asks her Mother about Beetlejuice. This awakens Lydia's memory. Especially what happens when you say his name three times. She tries to convince her daughter that there's no such thing and her daughter obviously imagines it. When Lydia's daughter nearly says his name a second time, Lydia snaps at her not to say his name. Lydia's daughter asks why? Lydia, no longer able to keep up the charade, tells her daughter everything and what a horrible person (or ghost) Beetlejuice is.
Lydia's daughter talks to Beetlejuice. Tells him that she knows what happened between him and Lydia. Beetlejuice promises he has changed (of course he hasn't) and says he can make everything right.
All she has to do is say his name two more times.
Which she does, much to Lydia's chagrin. And Beetlejuice is back.
BEETLEJUICE: "Come on, babe. Aren't you glad to see me?"
LYDIA: "You disgust me!"
BEETLEJUICE: "Aw come on! You've gotta be a tiny bit glad to see the ol' B Man again?"
LYDIA (angrily): "YOU TRIED TO FORCE ME TO MARRY YOU!!"
BEETLEJUICE: "And I forgive you for leaving me standing at the alter. Hey! I'm not the kind of ghoul that holds a grudge."
Beetlejuice stays true to his promise and offers his service to deal with the Kahuna spirit. He challenges the Kahuna to a surfing competition.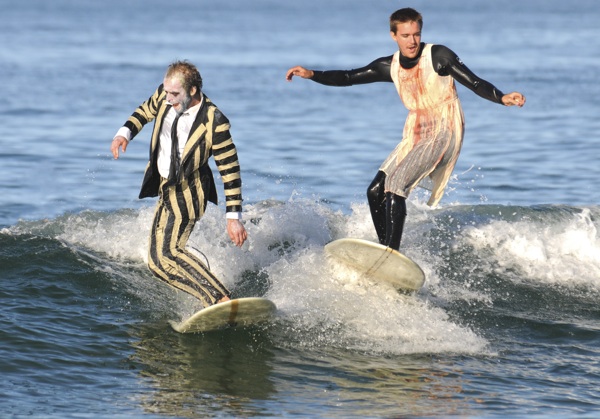 What that might look like.
Beetlejuice wins dispatching both the Kahuna spirit and Lydia's scrupulous partner. Everybody loves them again and Lydia builds the resort in another part of the island. Later on Beetlejuice reappears and he and Lydia make amends. That is until Lydia realizes that Beetlejuice and the Kahuna spirit are now buddies. Beetlejuice and the Kahuna spirit reassure Lydia that everything is cool with the Kahuna spirit now that they are building in a different spot and Lydia's daughter returned the idol (yeah, that happens somewhere too) to its resting spot.
What Beetlejuice and the Kahuna spirit might look like in the film.
To prove it the Kahuna spirit breaks into a very Don Ho sounding rendition of Shake Shake Shake Senora with her daughter doing a mid-air tango much like her mother did in the first film. Lydia is holding out at first, but ultimately joins with her daughter, Beetlejuice and Kahuna.